Accolades for Two of our Fantastic Ladies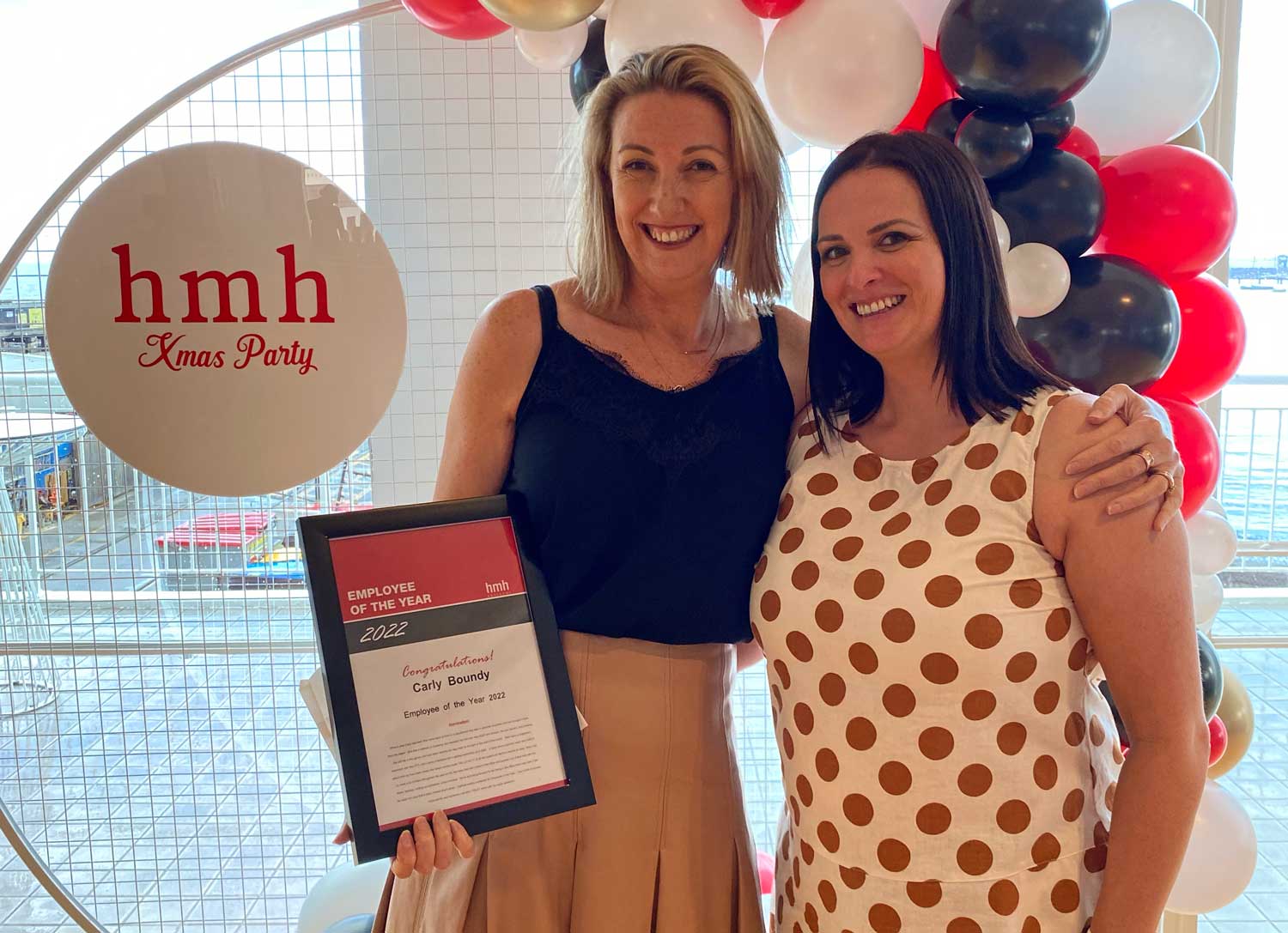 The end of 2022 heralded the awarding of our annual "Employee of the Year" and also saw the well deserved promotion of a long serving and loyal member of our team.
Mandy Kelley – Appointment to Associate
Dedication, commitment, hard work and loyalty were recently recognised for Mandy, with her promotion to the position of Associate, in our firm.
Mandy is a former winner of various awards for client care and service and in 2015 was our Employee of the Year, so has a long history of recognised achievement.
Mandy started with HMH in July 2002, so will shortly clock up 21 years service with the firm. Commencing as a graduate in our business services division, Mandy showed early signs of a very solid work ethic and an interest in the emerging accounting software programs.
Roll on 20 years and Mandy has become our "guru" on Xero and several other software programs. She is also a "Master Spreadsheeter", whose organisational, recording and cross referencing skills set the standard for all to follow. Want to know the details of a transaction 15 years ago? – Mandy will have all the information, cross referenced to supporting documents, all arranged in date order!
Mandy has made a significant contribution to the firm's systems, procedures, processes, training, skill development and workflow management, through her involvement on various committees, research groups, working parties etc.
Most significant has been Mandy's preparedness to spend time one on one with more junior members of the team to pass on her knowledge, work practices, attention to detail and client service skills.
Mandy looks after the accounting and tax affairs of a large number of our privately held and family business groups and her knowledge, experience, organisational skills and approachable and helpful manner, are sought out by clients and colleagues alike.
Mandy's appointment as an Associate of our firm recognises her skills, experience, dedication and commitment to our "Trust/Loyalty/Care" credo.
Congratulations Mandy!
Carly Boundy – hmh Employee of the Year (EOY) 
In a magnificent return to her old stomping ground, Carly returned to HMH in 2022 and took out the coveted EOY award. 
In a Gary Ablett jnr type move, Carly returned to hmh following a stint with an interstate firm, quickly got her "hands on the ball" and ended up as 2022's MVP! 
Carly started with our firm in September 2000 (Australia's Olympics month) and spent five years in our business services/audit team.  Upon starting a family with husband Matt, she moved to the Mornington Peninsula, where Matt's teaching  job was based. 
Carly worked for several years for a Peninsula based accounting firm and in 2013, returned to hmh specialising in audit of Superannuation Funds and Not for Profit organisations. 
In 2019, the country came calling, with Matt being appointed to a senior position at a private school in Albury.  So,  the family packed up and moved across the border, where Carly found a position as a Superannuation Manager with a local firm. 
In late 2021, when Carly was in Melbourne catching up with her old hmh buddies, talk turned to a possible return to where it all started. 
And so it was – Carly returned to hmh in January 2022 to take over management of our Superannuation Division.  In the space of a few months, Carly had reorganised, refocussed, refreshed and refurbished our Super team and in the process, became our Superhero!  Carly's family have returned to the Mornington Peninsula, with husband Matt having been appointed to a senior management position at a private school on the Peninsula. 
With a great deal of dedication, commitment, time and effort, Carly has made a huge impact on the running of our Superannuation division.  Our EOY award is peer voted and Carly's efforts were well recognised and appreciated, as expressed in the significant number of votes cast in her favour.
So – Congratulations Carly on a very successful return to "the old Club"!  Great to have you back in hmh colours.