100 Years Strong .... and Sustainable!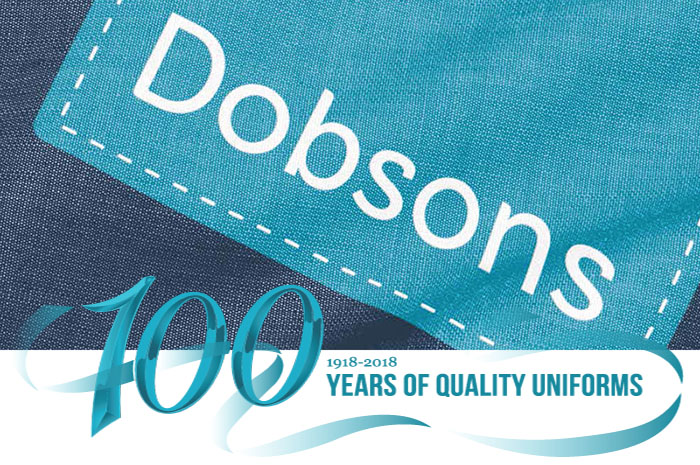 Dobsons is a household name in Hawthorn and is widely known by parents of school children, as a major supplier of quality school uniforms.
In 1918 from humble beginnings Thomas Walter Dobson first planted the seed that is now Dobsons Pty Ltd. Opening his first store just 100 metres from the current location in Glenferrie Road, it was Thomas' dream to supply every school in the surrounding area with affordable schoolwear garments.
A successful menswear business was established and early on Thomas recognized the need for quality school uniforms, as did his son Walter Dobson, who entered the business in 1935. Wal grew the business with his father and set about laying the foundations of asecure future of Dobsons. Thomas passed away and it was then up to Wal to continue in his father's footsteps. He championed anything local and was appointed the Mayor of the City of Hawthorn and Justice of the Peace.
In 1949, Ian Dobson was born and was destined to follow his father Wal. After completing his degree at Monash University, Ian was appointed General Manager and soon became the future of Dobsons. Being a "new wave" thinker, Ian's passion for developing the business soon became apparent and his desire to take Dobsons to even greater heights, forged new territory.
Ian established the first ever school shop on campus in 1985. Since then, Ian has built Dobsons into one of the largest school shop operators nationally. Primarily focused on the Victorian market, it wasn't until Ian's son Warwick joined the business in 1996, that Dobsons expanded interstate. Warwick's expertise in technological advancement assisted Dobsons greatly, by creating a specialized system for buying and analysing stock delivery.
In 2012, Dobsons launched an e-commerce online store providing unparalleled access and convenience for all customers. The company's ability to deliver quality apparel and customer support nationwide is testament to the continued pursuit of excellence at Dobsons.
With Warwick, and his brother Alistair running the business, Dobsons has transitioned to the fourth generation.With the celebration of its 100th year in 2018, it was time for Dobsons to turn its attention to another angle on sustainability – that of its product. In conjunction with one of Australia's top fashion designers Kit Willow and Firbank Grammar school in Brighton, Dobsons are working on a school uniform that is sustainable, affordable, and comfortable.
School uniforms have an average life of only 18 months because children grow and uniforms get washed very regularly. When polyester or blend fabrics are washed, they give off tiny fibres which end up in the ocean, affecting marine life. When new nylon is created, the process gives off nitrous oxide that is 300 times more toxic than carbon dioxide is to the atmosphere. Then, once discarded, uniforms never break down.
Firbank Grammar principal Jenny Williams embraced the opportunity to work with Kit Willow and Dobsons to provide this lead in sustainability. "There will then be great opportunity for other schools to follow Firbank's lead… it's great role modelling to our young people and school communities generally," says Warwick Dobson.
The textile industry globally, is the second largest polluter, behind oil. Australians are the second largest consumers of textiles, buying an average of 27 kilograms of clothing and textiles each year! This sustainable uniform project is a great step forward for the clothing industry, which has become bemoaned in recent years for its "fast fashion" and "throwaway" trends.
We congratulate Dobsons on their 100 years and their sustainable uniform initiative.